Yeastar S-Series VoIP PBX offers a scalable solution that is easy to install and manage and that has been built to provide the ultimate performance quality. Targeted for small and medium size enterprises, the Yeastar S-series PBX can support a range of 20 to 300 users and 10 to 60 concurrent calls. 
Future proof your business and your investment with the S-series PBX; built to meet all of your current communications needs, but also built with a modular design that is highly flexible. The S-series is easy to install with plug and play connectivity and auto provisioning options. It also has Metro UI driven by point and click configuration. Better yet, the S-series offers advanced failover protection as well as monitoring and reporting capabilities.
The S-Series PBX can be configured with any of the telephony interfaces below. The S20 supports 2 modules without expansion boards, S50 supports 4 modules without expansion boards, S100 supports 8 modules=2 expansion cards, and S300 supports 12 modules=3 expansion cards.
One Expansion card can support 4 modules. On S100 and S300, you must install expansion boards if you want to add modules or PRI port.
The S100 and S300 support the D30 module to add 100 users and 30 calls.
Telephony Modules:
S2 Module has 2 FXS PortsO2 Module has 2 FXO PortsSO Module has 1 FXS Port and 1 FXO PortB2 Module has 2 BRI Ports GSM Module has 1 GSM Channel. Frequency: 850/900/1800/1900 MHz (quad-band)3G Module has 1 WCDMA Channel. Frequency: 900/2100 MHz, 850/2100 MHz, 850/1900 MHz
Expansion Modules:
EX30 has 1 onboard E1/T1/PRI port.EX08 has 4 onboard module slots and 8 interfaces on the panel.
S-series Variants: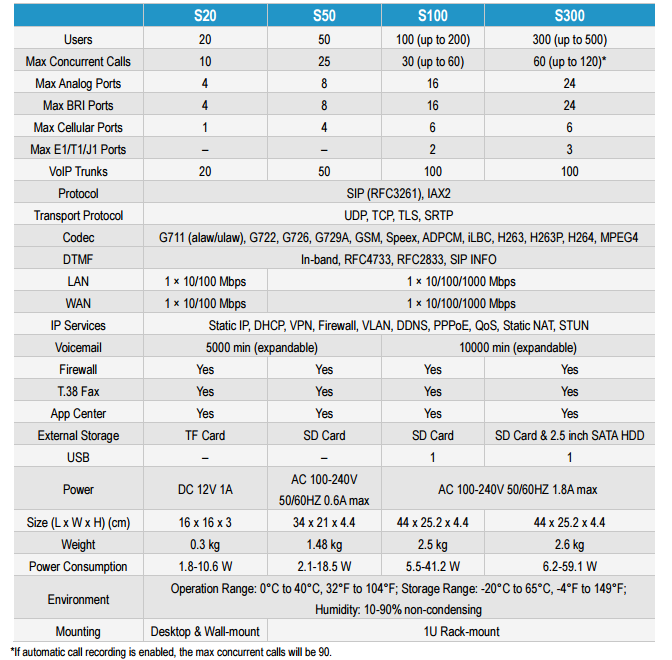 Yealink S-series Features and Specifications
Works with SIP/IAX2, PSTN lines ISDN BRI, E1/T1/PRI, and GSM/CDMA/3G
Built-in call recording capability
Powerful Apps (add-ons) include Auto Provision, LDAP, and more coming soon
Free lifetime software/firmware upgrade and above all, it's super easy
Connect multiple sites and remote users instantly
No hidden charges and extra licensing fees
Low power consumption (1.8-59.1 watt)
More features:
Automated Attendant (IVR)
Attended Transfer
AutoCLIP
Blind Transfer
Blacklist/Whitelist
Call Back
Call Detail Records (CDR)
Call Forwarding
Call Monitor
Call Parking
Call Pickup
Call Recording
Call Routing
Call Waiting
Caller ID
Conference
Custom Prompt
Dial by Name
DISA
Distinctive Ringtone
DNIS
Do Not Disturb (DND)
Event Center
Email to SMS/SMS to Email
Fax to Email
Follow Me
Paging/Intercom
LDAP
Mobility Extension
And More…